Never too late to chase a business dream
posted on 20 May 2022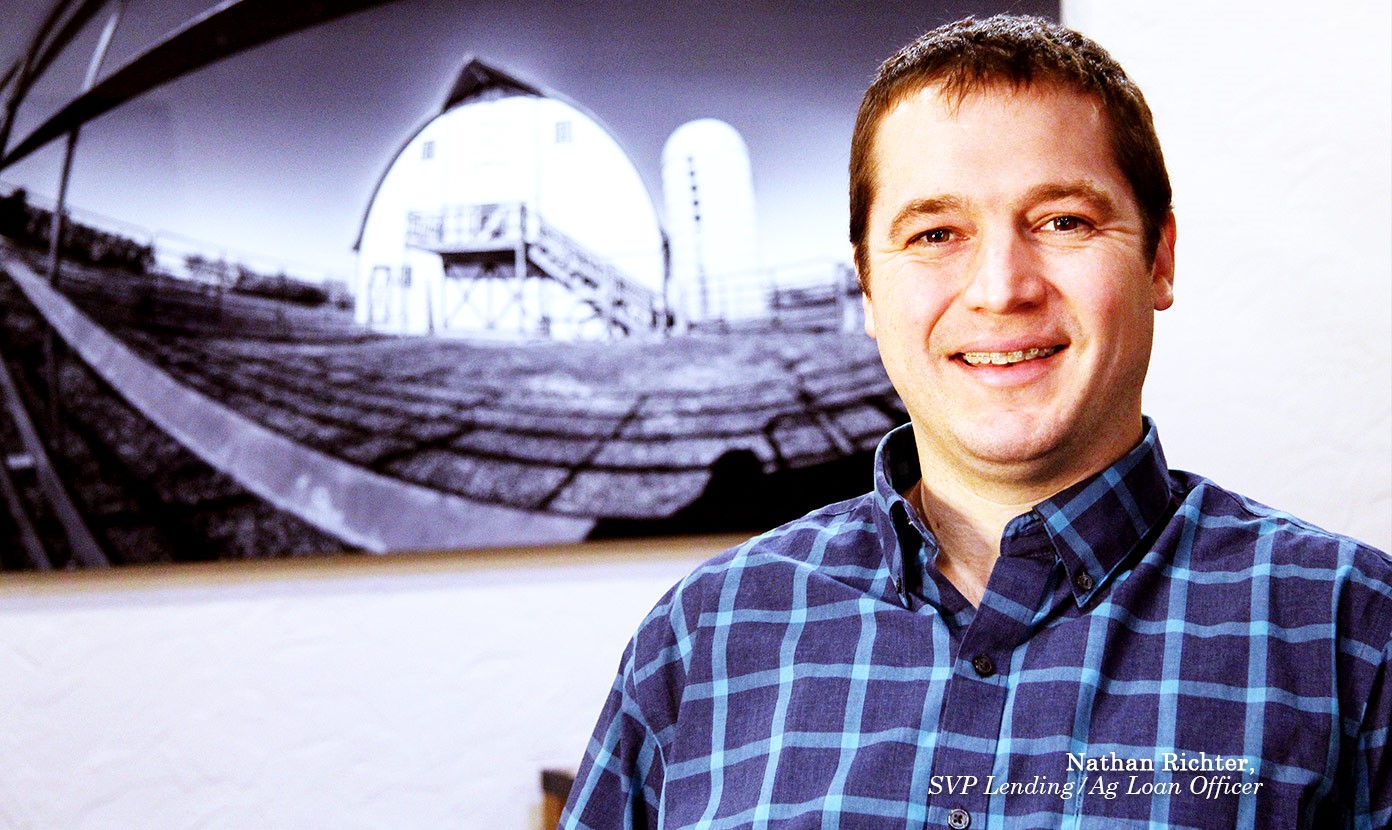 Richter resigns as Senior Vice President of Lending for entrepreneurial opportunity

Nathan Richter, senior vice president of lending at Union State Bank has given his resignation as he sets out on a bigger path. One that beats to his entrepreneurial heart and breathes excitement into his soul. Richter's Solid Rock, LLC is now open for business.
How did Nathan get into banking?
Richter has been submerged in banking for well over a decade. His first brush in the financial world was when his wife, Kristin, took a job at a bank while living in Minnesota. The work she was doing, sparked an interest over the dinner table talk. When opportunity presented, Richter applied and was granted a position. 
During his time with this financial institution, Richter found himself getting familiar with all banking aspects. The day-to-day teller operations with deposit transactions and account opening, while also dipping into the lending side of banking, with loan inquires. 
This was start of Richter's 15-year journey in banking. 
Time with Union State Bank
Through the grape-vine Richter's banking experience circulated and found its way to Mercer County. Not too long after his start in the Minnesota banking world, Christie Huber Obenauer was ringing Richter's phone.
With the soon retirement of Union State Bank's (at that time) current agriculture lending officer, Faye Krumweide, Obenauer inquired to Richter if he was interested in being an Ag Loan Officer with USB. 
With a new opportunity before him, in 2010 Richter packed up his family – at that time, his wife and two children, Madison and Noah – and moved to Beulah, N.D. "It was really funny, as we drove down Main Street [Beulah] for the first time, we actually saw a tumble weed roll across it," Richter recalled with a laugh. 
During his 12 years with USB, Richter has spent the last six years as Senior Vice President of Lending. A position he never even thought of when he first started his banking journey back in Minnesota. "It's just generally putting one foot in front of the other… it's been a good journey," said Richter. A rather "interesting" journey as he recalls but nonetheless learning a bountiful amount at the same time.
While employed with USB, Richter and his wife, expanded their family and welcomed two more children into the world, Langdon and Jonah.

A Burning Passion
"As a seven-year-old I was watching that show This Old House on PBS, where they re-do people's homes … I don't know if that's normal for a kid, but I guess I wasn't a normal kid," Richter said with a laugh. 
Looking back, Richter has always had a passion to work with his hands. Even throughout his time in banking he has invested in rental properties and tackled big and small projects within those homes; as well as plenty of remodeling projects in his own home. 
Never had that passion itched enough for Richter to make the move to step away from his role at the bank. Until recently when an opportunity lit a small spark that Richter couldn't resist. 

A New Venture
It all started with a bit of research, something Richter loves doing. "I had my own concrete problems, so I wanted to understand how it worked and how I could fix it," Richter said. He explained that his initial thought was the removal of the concrete and then having to re-do it completely. While he researched his options for his own concrete issues, he came across these polyurethane foam injections; and this practice being used to lift concrete.
"Who would have ever thought foam could lift foundations – this is the craziest thing ever," said Richter.
The foam injects not only lift concrete slabs in driveways but also foundations and footers that are failing – injecting as deep as 10 feet. The purpose of the injects is to lift the concrete back to its original height. 
Richter's mind was engaged as to what this product could do. He submerged himself into the excitement of this newfound product – to him – and began inquiring as who offered such services. After talks with a business owner in Fargo, Richter found himself at a training conference for the product. "It went really well, and it seemed like something very viable," said Richter. 
As he and his wife walked around Beulah summer of 2021, Richter began to take note of all the households or properties that would benefit from this product. At that point Richter's wheels began to turn even more as he felt this was a business that would be beneficial to the communities, he calls home. 

Saying Good-Bye to Banking
As the plans for his new business progressed Richter realized quickly that if he was to start his own business, it was going to need all his time. "For me, I am never one to try and do things halfway, I want to do it well, so I felt like it was time to give it a go and see what I can do," Richter explained, "So I took the big leap."
Nonetheless, the good-bye's aren't easy. The words of his resignation were difficult to say. The bank and the people within had become and been family for over a decade. However, Richter wasn't surprised when he spoke about chasing a dream, he was met with some sadness of his departure but was mostly met with encouragement and praise by his employers and coworkers. 
"There are two parts I'm really going to miss," said Richter, "one, especially in the lending department, which I've been a part of 12 years and lead it for almost half of that, we've created and fostered and grown such a good well-knit group of lenders and assistants."
"To me, it's hard to leave when things are running so well… in other regards I feel so good about it and that I'm leaving an organization that I've come to know, love and respect… I feel good about passing the torch."
Richter carried on to share the second thing he would miss the most, "Two, the farmers and ranchers in particular that I've worked with a lot, and a few commercial [businesses].
"I've had the opportunity to work with and walk beside them, hand-in-hand, through the struggles and try and create some sense of normalcy." He's endured the hardships with his customers and created strategic plans to push them to the other side and arriving at a peaceful outcome. "Seeing the success they've had, venturing out, taking risk, and accomplishing what they sought out to do," Richter explained in awe.
Being someone's banker becomes more than just a transactional experience. Richter said a community banker becomes invested in their customers lives and those relationships evolve into so much more. 
"You get a sense of familiarity, of how to support them, how to become a friend, how to give good perception of what is going on in their lives and operations," said Richter. 
All the way down to the children of these customers and seeing their successes. "I've really enjoyed basically helping them see success because ultimately, their success and their business creates a community of success overall," Richter explained.

Kayla Palmer Takes on Ag Lending Department
"I've told Kayla this, [she's] going to do better than I ever could in the ag lending portion," said Richter. While he said Kayla disagreed with him, Richter is positive she will bring so much more to the customers and the bank, as a whole. Richter explained being a rancher herself, Kayla lives and breathes agriculture. "[Kayla] is in the trenches with the farmers and ranchers, it is just something innate in [her]" Richter said. Kayla has a passion for ag and its caretakers. "I think she will surpass anything that I've created and done."

Solid Rock, LLC
The truck is fully loaded, the gloves are on, and Richter is ready to take his first step into the new territory of business owner. Solid Rock is a concrete leveling and lifting company. This service is provided in instances where concrete has become uneven, there is a tripping hazard or liability, or possibly structure damage. 
Richter provides free estimates and plans to travel. Solid Rock, LLC will serve: Belfield, Beulah, Bismarck, Bowman, Dickinson, Garrison, Glen Ullin, Halliday, Hazen, Killdeer, Lincoln, Mandan, Medora, Minot, New Salem, Riverdale, Stanton, Underwood, Washburn, Watford City, Willston, Zap and more. 
Richter is excited to offer this new service to the area and the communities he and his family are proud to call home. Head over to their website SolidRockND.com to see just how it works. Contact Richter but website submission or call/text, (701) 873-9906.