Palmer brings personal touch to ag lending
posted on 9 September 2022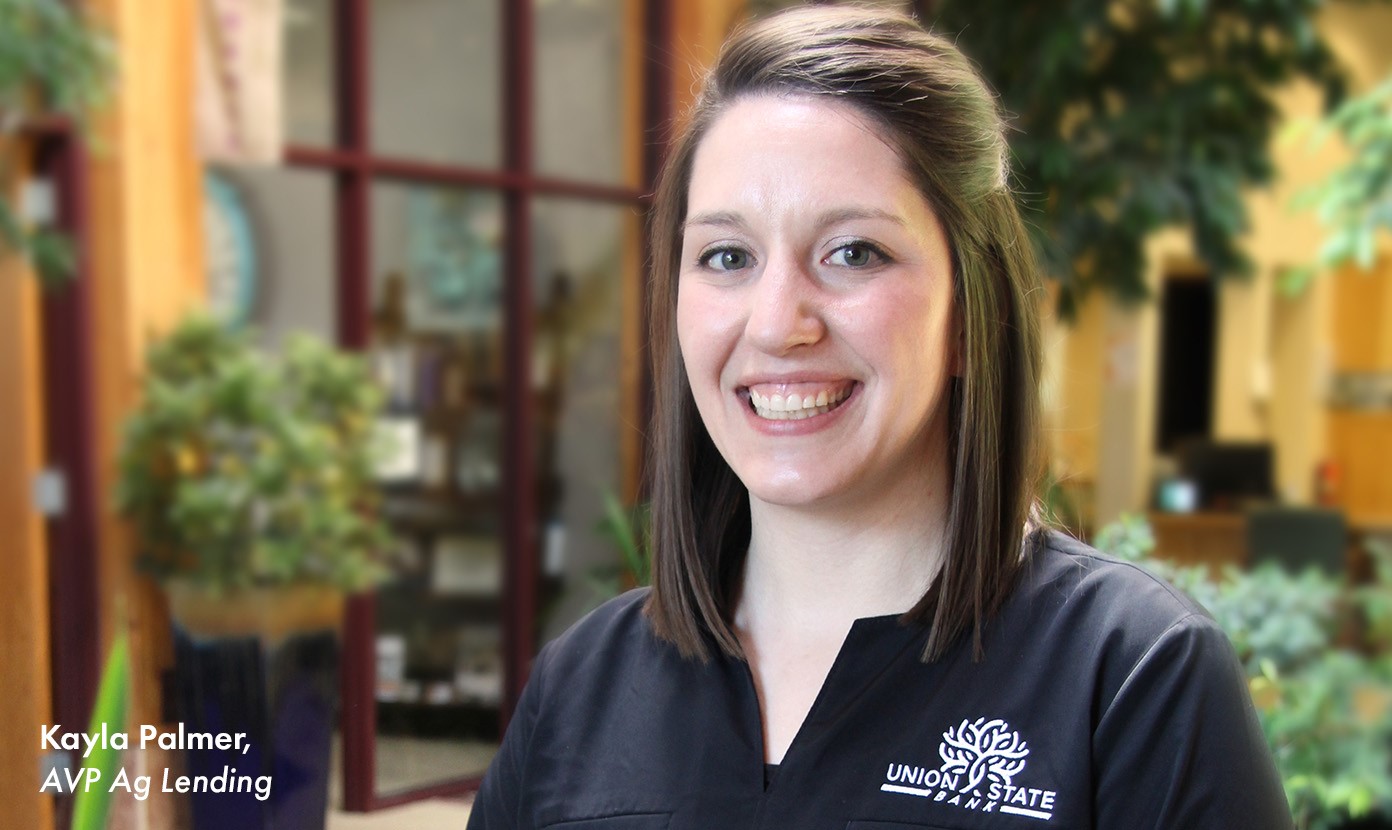 "She's in the trenches with them," said predecessor Nathan Richter of Union State Bank's Ag Lending department. Richter had been with Union State Bank for over a decade as an ag lender and later senior vice president of lending. With his departure from banking, Richter knew he was leaving the department in the right hands. 

Kayla Palmer has been with Union State Bank for two years. While newer to the industry, Kayla has been entrenched in ranching for almost a decade. While it was her husband's passion that landed Kayla with cattle and the farm life – she is thoroughly rooted within her family's business and seeing it's growth year after year. 

Buying their first cattle in 2014, Kayla and her husband Chris run a cow/calf operation. Kayla said she has made it her focus to be forward thinking. "What can we try to make our operations more successful?" said Kayla. Researching programs and management strategies available to their business – new and old. 
This is what sets Kayla apart from other ag lenders. "Like our customers, our livelihood depends on what their livelihood depends on – the success of our business," said Kayla. 
"When there's a drought, we're facing the same challenges, when there's a blizzard that takes out a calf crop, we have the same struggles… we utilize on the same FSA programs that our customers do, so we have the same wins, and we have the same challenges or losses." 
Kayla said she's intentional when making time to research programs and strategies that her customers could utilize. "My customers don't have time to research drought related programs, or disaster programs, so I intentionally try to research the programs that would benefit them," said Kayla. 
"I want to be a resource for them." Kayla said her priority is her customers and what is good or best for their operation is good for the bank. 

Having a background in education Kayla enjoys the research portion of her job, taking that information, understanding it, and then explaining it to her customers. 
Programs can be often jargon filled and sometimes confusing. Kayla gathers this information for her customers so that when they call and inquire about what's available to them, she is a resource and can present them all the programs that could be available to them, as well as that information being delivered in Layman's terms. 

Kayla said she does this because it's what her customers need, "they are busy, and they don't always have the time … anything I can do that can help make their operation more efficient."
Kayla continues to work to be a wealth of knowledge for her customers and carry a broad understanding of the many facets that influence her customers. 
In summer of 2022 Kayla graduated the Ag School of Banking. Upon completion Kayla was ready to sign up for more classes and will be attending Crop Insurance School next. Does she plan on selling crop insurance? No, but it is a piece of her customers' operations. 

"I think from a customer perspective because I am one and I know what it feels like to sit on either side of the desk," said Kayla, "I try to take the time to explain all the little things and build a relationship with them, so when my customers are excited because it's raining outside, they want to call and talk to me about it; and when it's a draught and they aren't sure what they are going to do, they call and talk through the options." 

Good times and bad, Kayla's objective is having a strong relationship with her customers so that it can last the test of time. "Building those connections when the times are good, makes them last when times are harder," said Kayla. 

Call Kayla Palmer at Union State Bank for all your ag lending needs – whether it's for a loan, program options or just to chat about the weather.